At its Extraordinary General Assembly on 6 September 2023, the Swiss Turkish Business Council (STBC) made a radical change in its leadership in order to strengthen economic relations between Switzerland and Türkiye. At the same time, it was decided to increase the attractiveness of the association for Turkish companies through a new membership fee structure.
The STBC, which in June 2023 still consisted of a three-member board, has now added four new members to its board. The new members include the entrepreneurs Orhan Arikci from Reinach BL, Cemil Baysal from Horw LU, Romeo Maggi from Hergiswil NW and Mehmet Yildirimli, who is responsible for the Turkish market at Switzerland Global Enterprise, among other things. The previous board members Ümit Özeflatun, entrepreneur in Switzerland and Türkiye, and Philippe Graber, responsible for Turkey at Bank Mirabaud in Zurich, were elected vice-presidents. The meeting was chaired by Dr. Pia Stebler, who was elected President in June 2023.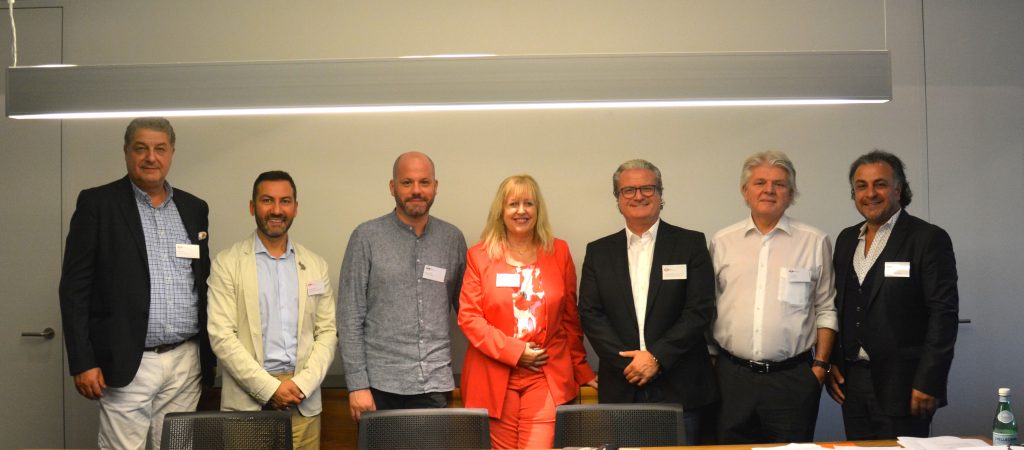 The new Board, from left to right: Orhan Arikci, Mehmet Yildirimli, Philippe Graber (Vice President of the Board), Dr. Pia Stebler (President or the Board), Ümit Özeflatun (Vice President of the Board), Romeo Maggi, Cemil Baysal.
New attractive flat rate for Turkish members
From now on, companies domiciled in Turkey will pay a membership fee of CHF 350 per year. The previously size-dependent membership fee structure is no longer applicable and membership will be significantly cheaper for all Turkish companies that employ 30 or more people.
The STBC is thus not only counting on a strengthened management level, but also on improved accessibility for Turkish companies in order to raise economic relations between Switzerland and Türkiye to a new, higher level.